During 2022 we extended our House event program and included all Foundation, Year One and Two students (previously only 3 – 6). All year levels are now involved in House Cross Country and Athletics Day. In 2023 we will further extend this to include a multi-age wellbeing day each term. The younger students have enjoyed a sense of connectedness in house events and in supporting other students in the upper year levels.
House Athletics:
The House Athletics event is for all students in Deepdene Primary School. It is run at Bill Sewart Athletics Track and held in Term 3. Students are transported via bus to the event and dress up in their House Colours ready to cheer each other on!
Students who are in Foundation to Level 2 participate in athletics games and challenges on their own oval across from the track. The activities are mostly focused on teamwork and cooperation, with some built in friendly competition. Students who are in Level 3 to 6 participate in multiple athletics events including 100m sprint, hurdles, shot put, discus, long jump, triple jump, high jump and relay challenges.
Whilst the main focus for students in Level 3 to 6 is on participation, students have their times, distances and measurements recorded and those students who perform exceptionally well will have the opportunity to compete in District, Division and Regional competitions against students in other schools.
The House Athletics event is an extremely fun and exciting day, bringing the whole school community together. Students participate and compete to score points for their House in a fun, encouraging and supportive environment.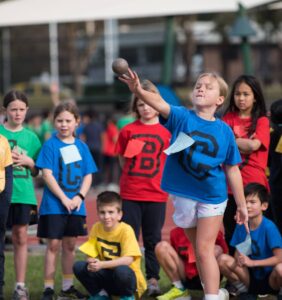 House Cross Country:
All students in Deepdene Primary School from Foundation to Level 6 will have the opportunity to take part in the annual House Cross Country event which is held during Term Two at Stradbroke Park. Cross Country is a long distance run and students will run different lengths depending on their age and year level.
Foundation – 400m
Level 1 and 2 – 800m
9 and 10 Years – 2km
11 Years – 3km
12 Years – 3km
The House Cross Country is a very exciting event that brings together the entire Deepdene community. The students cheer and support each other during the races alongside the parents and teachers. The main focus of the event is on students participating and scoring points for their house, regardless of their finishing position.
For those students that are slightly more competitive with their running, they will have opportunities to compete in further competitions within the District, Division and Regional competitions against runners from different schools.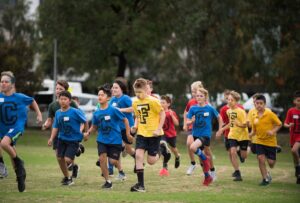 House Swimming:
The annual House Swimming event is held for students in Level 3 to 6 in the last week of Term 4. The event is held in the 50m outdoor swimming pool and area of Boroondara Sports Complex in Balwyn and students are transported to the venue via bus. Students dress up in their House colours ready to encourage and cheer each other on throughout the day.
Prior to the event, students will sign up to the swimming races that they want to participate in. The races are completely optional for any students who want to be involved. For those students who do not have much/any experience swimming, there are games at the end of the event that they can participate in.
All students will be able to participate throughout the day in the supervised game's pool when they are not racing. This is a fun and exciting way to encourage students to spend more time in the water throughout the day with their friends and cool down and relax.
The House Swimming event is a great way to finish off a busy year and for students to unwind and relax. The student's focus is on participation and scoring points for their house and encourages all students to enjoy the day regardless of their swimming ability and experience.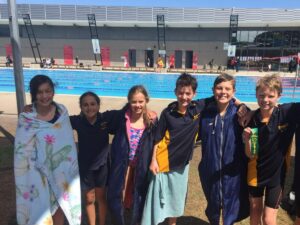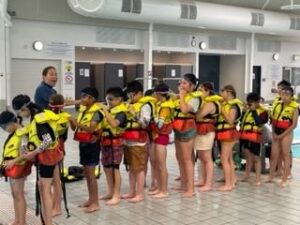 Team Building Dance:
All students participate in a series of instructional dance lessons at the beginning of the year which are run by the professional dance company 'STOMP'. Throughout the program, students in each year level are taught multiple dances to a variety of songs. The students then get to choose which dances they feel most confident in to perform to the whole school and to the parents of the Deepdene community.
Students practise and perform these dances within their own year level, which presents a great opportunity for students to develop new friendships with students from other classes.
The STOMP dance program is a fun way to teach our students rhythm and timing and to develop whole body coordination. It highly encourages students to build and develop confidence and to learn to coordinate themselves as part of a team.
We always look forward to our Deepdene dance performances at the beginning of the year!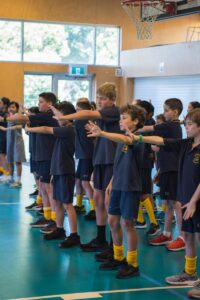 Friday Celebration Assemblies:
Each term, our school captains organise a whole school assembly for parents and carers. Students from each year level present an item related to their schoolwork over the term. These items can be a musical performance, a role play, sharing of project work, or sharing poetry or stories they have written in class. These events have proven extremely popular with high parent and grandparent attendance.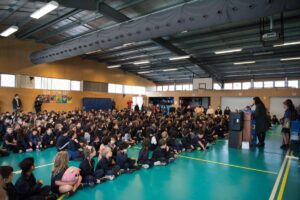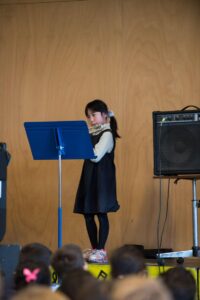 End of year celebration concert- Deepdene on the Green:
In 2022 we introduced an end of year celebration concert (Deepdene on the Green). Students were involved in choosing an item for their class to rehearse and perform for families. The event was held on the school oval with hired stage and sound. We incorporated an Art Show on the night where families visited various areas around the school which students and teachers had decorated to enhance the art displays for each level. The artwork was produced by students specifically for this event so families could view work in all levels and see the progression through the school. This was an extremely successful event with much positive feedback. 'Deepdene on the Green' will now become an annual event for our community.
Term 1
Monday 30 January 2023 – Thursday 6 April 2023
Term 2
Monday 24 April 2023 – Friday 23 June 2023
Term 3
Monday 10 July 2023 – Friday 15 September 2023
Term 4
Monday 2 October 2023 – Wednesday 20 December 2023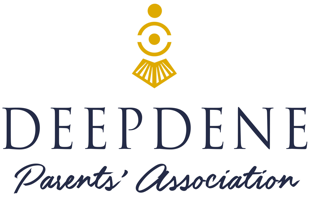 The Deepdene Primary Parents' Association is a very active part of the school community. Our aim is to create an engaging and vibrant hub for all students and to foster a strong and supportive community spirit among the parents of the school, thereby enhancing every student's sense of belonging.
We create this environment by providing many fun activities for both the children and parents throughout the year. Icy Pole Friday's, Hot Cross Buns at Easter, Mother's Day and Father's Day stalls and our bi-annual Big Day Out Festival are just a few activities organised for the children to enjoy. Various social nights, family days, our Ladies Luncheon and Dad's Bowls Night provide an opportunity for parents to connect and socialise in a relaxed atmosphere.
Joining the Parents' Association is a great way to keep informed, learn new skills and make new friends.  Your contribution can be as large or small as you can manage and your ongoing support of the DPA is invaluable.
The Parents' Association meets once a month and pre-school children are welcome.  Attending our meetings provides the opportunity to actively be involved in the events the Parents' Association organise for the children and their families.  Becoming a class coordinator, helping to organise an event, offering your knowledge and expertise in your field of work or donating your time where you can are a few ways you can help.
We also create Friendship lists for each year level which provide contact details of the families in your child's class.  It is a wonderful resource for organising student play dates, birthday invitations and parent catch ups.  The consent forms are sent home via your child in the first few weeks of the school term.
Our most important objective is to coordinate events for the students and families and to create a welcoming environment.  Additionally we raise funds for the school, facilitating the purchase of items that enhance the enjoyment of school for all the children.  Recently, we have provided a projector and large screen for the school hall, a class set of computer tablets, sports uniforms, re-landscaping the Foundation Playground and building a sensory/friendship garden with totem poles painted by the students.  Last year we contributed funding for air conditioning and heating in the Centenary Hall and we continue to raise money for items on our current 'wish list'.
If you would like to join the Parents' Association, receive our email updates, or find out more, please contact us via email dpsparentsassociation@outlook.com
You can also 'like' our school Facebook page to follow your child's school events.
Parent Payment Arrangements
This policy outlines the ways in which school councils can request payments or voluntary contributions from parents and ensures that parent payment practices in schools are consistent, transparent and that all children have access to the standard curriculum.
Financial Support For Families
Deepdene Primary School understands that some families may experience financial difficulty and offers a range of support options, including:
the Camps, Sports and Excursions Fund (see links below for information and application forms)
State Schools Relief (assistance for uniform)
Alternative payment arrangements including instalment options.
For a confidential discussion about accessing these services, or if you would like to discuss alternative payment arrangements, contact:
Kim Hastings
Ph: 03 9817 1917 | Email: deepdene.ps@education.vic.gov.au
Before & After School Care
Welcome to OSHClub
OSHClub works in partnership with your school to provide Outside School Hours Care (OSHC) services. At OSHClub, children enjoy a fun learning experience. From exciting activities and healthy, nutritious food, to caring, motivated team members, you can be sure your child is safe and has lots of fun, before or after school.
Phone: 0432 161 565
Email: deepdene@oshclub.com.au
Program Times
Before School Care – Rise then Shine
07:00 AM – Bell Time
After School Care – Stay and Play
Bell Time – 06:00 PM
Holiday Programs (View brochure)
07:30 AM – 06:15 PM
Hours of operation as at term 1, 2023 and may be subject to change
Deepdene Primary School Uniform List 2023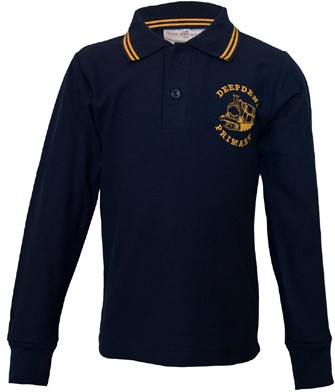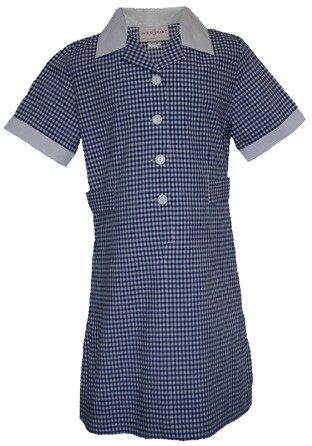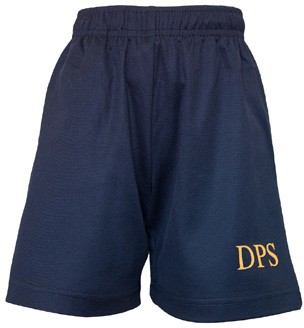 Second Hand Uniform Shop
The Deeepdene Parents' Association Second-Hand Uniform Shop has a great selection of pre-loved items for sale. Cash payments only please.
| | |
| --- | --- |
| Bomber Jackets | $10 |
| Windcheaters | $10 |
| Vests | $5 |
| Centenary Rugby Tops | $20 |
| Polo Shirts long & short sleeves | $5 |
| Summer Dress | $10 |
| Summer Shorts/Skorts | $5 |
| Trackpants | $5 |
| Winter Tunic | $15 |
| School Bags | $10 |
| School Hats | Free |
Open times wil be posted on Compass
Uniform Shop located
in the Multi-purpose Room next to OSH Club.
Classroom cuisine is an online alternative to the traditional and disappearing 'tuck-shop', They offer a convenient, user friendly service; creating, preparing, packing and delivering high quality School Lunches at the most affordable price.